RESOURCES
As well as providing free Bible for the U.S. Military and First Responders, we can also provide the extra information below...
What Must I Do To Be Saved?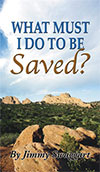 This is the most important question in human existence and one whose answer is clearly outlined in scripture. In order to be saved we must first realize our true state of sinfulness before God and know that He alone can save us, cleanse us, and give us eternal life. Scripture tells us that Jesus is the only way and we can not have access to God through any other means. In fact, in John 14:6, Jesus plainly stated... "I am the way, the truth, and the life: no man cometh unto the Father, but by me.".
CLICK HERE
for your free copy of 'What Must I Do To Be Saved?'
How To Be Baptized with the Holy Spirit


If Jesus, the Son of the living God, had to have the Holy Spirit to accomplish His divine mission, then how much more do believers need the infilling of the Holy Spirit? The baptism with the Holy Spirit with the evidence of speaking with other tongues —a command given by the Lord in Acts 1:4—is an experience separate and distinct from salvation and one that every believer must have to do anything for the Lord. While the baptism of the Holy Spirit is not necessary for salvation, it most definitely is necessary for service.
CLICK HERE
for your free copy of 'How To Be Baptized with the Holy Spirit'